Harry Ellis, Builder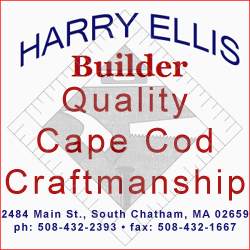 Harry Ellis, Builder is a full service Cape Cod Construction & Remodeling Firm. Our services include: new construction or remodelling, custom cabinetry, room additions, kitchen and bath remodeling, brick, block and stone work, door and window replacement, deck and siding.
Harry Ellis, a well known Cape Cod contractor, has been building homes of distinction for 33 years. From building a custom Cape Cod home, to remodeling a bathroom, Harry and his crew, including his 2 sons, can bring your project to life. Harry takes great pride in producing quality work in a timely fashion. If you need design ideas on a custom home, Harry Ellis is well respected by many quality architects on the Cape. On smaller projects he can design and build to your specifications.
Fully insured - All Phase General Contractor Contractor Lic. #CS025020