This Chatham, Cape Cod Business Page is Sponsored by
THE WILD GOOSE TAVERN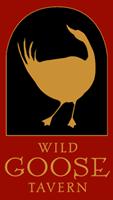 The Goose has landed in Chatham Village, and there is a new energy at 512 Main Street.
The Wild Goose Tavern
, offers a "spirited dining" experience with a fabulous new bar, featuring yummy infusions, creative cocktails and a bold, and ever changing wine list.
Our new menu boasts an extensive array of appetizers, along with flatbread pizzas, paninis, salads, Cape Cod seafood of course, and a twist on some traditional New England entrees.
This new and sassy
Goose
beckons you to come on by, relax, and enjoy breakfast, lunch or dinner, in the tavern or on the deck while watching Chatham Main Street stroll by.
See you at
The Goose!


512 Main Street, Chatham, MA • phone: 508-945-5590
map / details