Buyer Brokers of Cape Cod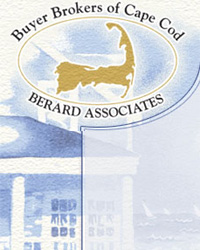 Buyer Brokers of Cape Cod - Berard Associates...On the Side of Homebuyers Since 1989
The word is out - the Cape Cod Real Estate Market favors the buyer. Now is the time to join hundreds of informed home buyers who have discovered the advantages of Exclusive Buyer Representation. Our entire agency is dedicated to your best interests as a Cape Cod home buyer, saving you time and money.
Surely it makes good sense to choose a Cape Cod Realtor® who will represent you rather than the seller! Allow us to give you the benefit of our in-depth experience and specialized skills and help you to locate and buy your Cape Cod home. Exclusive Buyer Brokers aim to get the best deal for the home buyer."Visit our website and search 3000+ Cape Cod homes for sale with the most advanced, user friendly MLS system available today.
Buyer's Market - Buyer Brokers
We represent the smartest way to buy real estate...we represent only you!