This Eastham, Cape Cod Business Page is Sponsored by
BELLAMY'S GRILLE AND BAR - FOUR POINTS BY SHERATON EASTHAM CAPE COD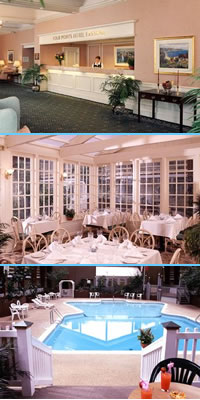 Bellamy's Grille and Bar offers reasonably priced, American-style cuisine served in a casual dining room. Restaurant is located next door at our sister property the Four Points by Sheraton in Eastham. Breakfast and Dinner is served daily. Early bird afternoon appetizers also available.

Lovely Cape Cod is the setting of Four Points by Sheraton Eastham Cape Cod, a modern full-service hotel. The area features around 27,000 acres of undeveloped beaches, salt marshes, bike trails, kettle ponds and forests.

Just half a mile from the hotel, the National Seashore Visitors Center offers guided and self-guided tours. Just up the Cape is Provincetown, with its famous artists' colony. Provincetown is the shove-off point for 3-hour whale-watching excursions, which give visitors an up-close look at the world's largest mammals. Rock Harbor Sportfishing Fleet ties up just 5 miles from the hotel.
Bellamy's Grille and Bar
Four Points by Sheraton Eastham Cape Cod
----------------------------------------------
1.09 mi/1.75 km from center of Eastham.
Route 6, Eastham, MA • phone: 508-255-5000
map / details