Crowne Pointe Historic Inn & Spa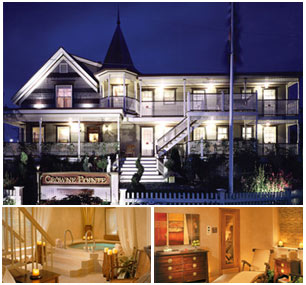 "Meticulously created ... this Inn has not left a single detail unattended."

...Fodors 2003
"Crowne Pointe elevates Provincetown to a new era of indulgence, elegance and grace."

... AAA Journey's Travel & Lifestyle Magazine, September/October 2003
Elegant 4-Diamond Rated Full Service Inn & Spa in the center of Provincetown. A Cape Cod resort setting offering award winning accommodations, gourmet cuisine, and a world class spa in an elegant, intimate environment. All rooms with the utmost in amenities. Additional amenities also include an inground pool and two outdoor Jacuzzi tubs. The
spa
includes complimentary use of sauna, steam room, and indoor mineral soaking tub and relaxation and meditation areas for before and after your treatments. Our restaurant captures our guests with exquisite gourmet cuisine and our hotel lounge and club room is a treasured place to socialize.
Please note that the Inn, Spa , and Bistro are not an appropriate environment for children.