Struna Galleries of Brewster & Chatham

Struna Galleries of Brewster and Chatham presents the artwork of Timothy Jon Struna. Painter, Timothy Jon Struna is also a well established printmaker.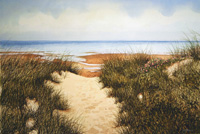 His original copper plate engravings are designed, engraved, printed, hand-colored and signed by the artist. Struna Galleries and artist Timothy Jon Struna also presents a series of limited edition reproductions from original paintings in the form of a giclee' print.
The artist and his wife Barbara invite you to visit the art studio and gallery in East Brewster Cape Cod and the second location of STRUNA GALLERIES owned by his daughter Heather on Main Street in Chatham Cape Cod. Both are open daily in season. His work is also represented by many other fine art galleries. Please contact us for a current listing.